Sustainability in the supply chain is more crucial than ever before. According to McKinsey, global supply chains account for more than 80 percent of greenhouse gas emissions and more than 90 percent of companies' impact on air, land, water, biodiversity and geological resources. 
Major retailers such as Costco, Walmart, and Amazon have set ambitious, multi-year net-zero carbon goals to improve their sustainability efforts, and they are not alone. Companies across the globe are developing life cycle assessments to evaluate and track their sustainability progress.
Companies today are motivated to enhance their environmental sustainability, for a variety of reasons: 
The Planet:

The UN's meteorological agency reported that greenhouse gas levels reached an

all-time high in 2021.

Carbon dioxide emissions are the greatest contributor to global temperature increases, which serve as the root cause of rising sea levels, ocean warming, and polar ice loss. Many experts agree that slashing carbon dioxide emissions is of utmost importance. The leading contributor to greenhouse gases such as carbon dioxide is the

transportation sector

. With a

global climate emergency at hand

, and the welfare of the planet at stake, business leaders have realized that sustainability measures are a necessary element of any successful operation.

 
Consumer Demand

: In recent years, we have seen a groundswell of demand for corporate sustainability actions. From paper straws at restaurants to reusable bags in grocery stores, small changes can make a big difference. Consumers are more than willing to do their part, and they hold businesses to an even higher standard. According to a 

survey conducted by The Economist

, consumers believe that brands have as much responsibility as governments to create positive environmental change.

 
ESG Analysis:

ESG (environmental, social, and governance) refers to non-financial factors used by investors to evaluate an investment's or company's sustainability. When analyzing new markets and business opportunities, companies must assess their environmental and social impact on people and the planet. This means adhering to ethical environmental, social, and governance standards. As investors

—

particularly millennials

—

continue to put their money where their values are, businesses are following suit.

 
Life cycle assessment (LCA): 
Most industry leaders and consumers agree that a commitment to sustainability is necessary for a successful business and a healthy planet. Supply chain stakeholders measure a product or service's carbon footprint with a lifecycle assessment process. Life cycle assessment (LCA) is a methodology for analyzing the environmental impacts of products and services. Part of that includes cradle-to-grave analysis, which measures carbon footprint by analyzing the lifespan of a product from raw material to disposal. By contrast, cradle-to-cradle analysis refers to a circular life cycle in which raw materials are not thrown away, but instead reused to create new products — such as recyclable packaging and shipping platforms. 
At iGPS, we have performed multiple life cycle assessments on our own pallets: 
A 2020 independent pallet life cycle analysis conducted by Environmental Resources Management compared the environmental impact of iGPS plastic pallets with common multi-use wood pallets. The study concluded that iGPS' virgin and recycled plastic pallets have a significantly less environmental impact than pooled multi-use wood pallets: 
Ozone layer depletion:

38 percent less impact

 

Global warming:

28 percent less impact

 

Smog:

36 percent less impact

 

Acidification:

22 percent less impact

 

Eutrophication:

32 percent less impact

 

Ecotoxicity:

40 percent less impact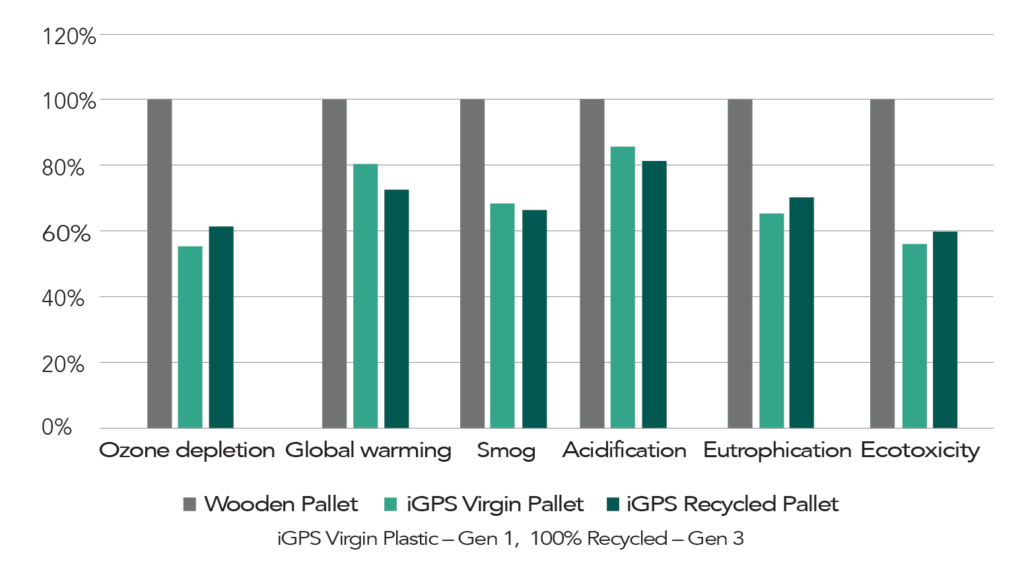 A key contributor to these impressive outcomes is the fact that iGPS shipping platforms are up to 35 percent lighter than multi-use wood pallets — requiring less fuel to transport while leading to reduced greenhouse gas emissions and lower shipping costs. Furthermore, a wood pallet can only make up to 25 trips across the supply chain before it is unusable, and 16 percent ultimately end up in a landfill. iGPS plastic pallets complete an average of 100 trips across the supply chain before being entirely recycled into new pallets, offering cradle-to-cradle sustainability. 
At iGPS, we encourage other supply chain players including manufacturers, retailers, and distributors to perform their own life cycle assessments. As the old saying goes, "That which gets measured gets improved." By employing methodologies that include performing LCAs, companies are in a better position to measure, improve, and meet their sustainability goals. 
Companies committed to sustainability use plastic pallets from iGPS, which are lightweight, recyclable, and help streamline your supply chain. For more information, contact us at 1-866-557-0047, email [email protected], or visit our contact page. We also invite you to follow us on LinkedIn.