Sometime during his conquering of the known world, Alexander the Great supposedly took the time to quip about the people responsible for his supply chain. "My logisticians are a humorless lot," he said. "They know if my campaign fails, they are the first ones I will slay." 
If anything, managing supply chains is now even more important and difficult. The entire global economy is supported by supply chains, and improving energy efficiency in those supply chains is crucial for companies seeking to save money, reduce emissions, and meet tighter regulatory standards. 
Alexander the Great might have conquered the known world, but today's challenges involve the well-being of everyone on the planet. Improving the energy efficiency of your supply chain has benefits for your business and for the world around it.
Why It's Important to Improve Energy Efficiency
A 2017 article in Energies journal defines energy efficiency succinctly: 
"Energy efficiency represents a key resource for economic and social development, providing substantial benefits to different stakeholders, ranging from the entities which develop energy efficient measures to everyone in society."
Improving the energy efficiency of a supply chain has a large range of benefits for businesses outside of the positive effect on the planet. Some of these include:
Higher profit margins

Lower total cost of business

Increased competitiveness

Improved reputation
Increasing energy efficiency might be important and beneficial, but it can also be difficult to do. For many businesses, it is possible to improve efficiency at the margins, but a major overhaul of equipment requires significant capital. This is where the supply chain comes in. The supply chain offers easier and more affordable ways to make small, concrete improvements in energy efficiency that add up over time.
How to Improve Energy Efficiency in the Supply Chain
Below are some ways to improve energy efficiency in your supply chain. Each method can work with the others, and each component part is important. 
Frequent Audits of Upstream Suppliers:

Vendors pass their costs and inefficiencies on to you. Conducting audits of your vendors and the way they run their businesses can help you understand where your money is going and how energy efficient your business truly is. 

Engaging an Efficiency Consultant:

Energy Digital

magazine points out

that engaging a consultant can help you find suppliers that will enable you to pilot improvements in supply chain energy use. If you don't know where to turn to find vendors that support your vision for lower energy use, an expert can help.

Route Optimization:

It's not an exaggeration to say that every wasted mile adds costs. Investing in route optimization software, rigorous training, and driver monitoring can help improve transportation efficiency. 

Tracking Your Shipments:

Increasing supply chain efficiency

means making sure that everything is shipped on time, stored for the optimum amount of time, and loaded in exactly the right order.

Pallet-level tracking via RFID tags

can help your business take control of the supply chain to reduce spoilage and

rejected loads

. This prevents wasted product, cuts out inefficient return and repacking or repalletizing, and saves retailer rejection fees.
Each of the methods above can make a difference in your energy use, but one change, in particular, can affect the energy efficiency of every area of your supply chain without a major cost outlay. That method is switching from wood shipping pallets to plastic pallets.
Make Every Shipment More Efficient with Plastic Pallets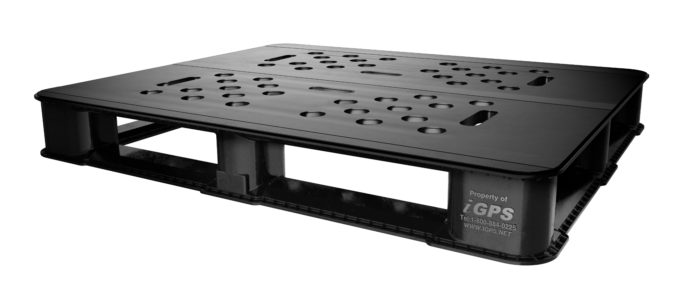 Pallets are the flesh and blood of the supply chain, and since the beginning of their use, they have been made of wood. While wood may be abundant and easy to build with, it's not cost-efficient or energy-efficient. Plastic pallets, on the other hand, offer a number of benefits that can increase the efficiency of your supply chain overall.
Plastic is easier to clean

.

Wood is susceptible to mold

, which can contaminate packaging and lead to rejected shipments, resulting in higher costs. It also absorbs moisture, including spilled product and cleaning chemicals. Plastic, on the other hand, can be easily rinsed and does not absorb liquids.

Plastic is more sustainable.

Plastic comes with many sustainability benefits. It lasts much longer than wood and

is fully recyclable

. As a result, rather than ending up in a landfill, a high-quality plastic pallet can simply be ground down and made into a "new" pallet.

Plastic is stronger and lighter.

Plastic is durable and

ideal for carrying heavy loads

. It is also far lighter than wood, which allows your supply chain to transport the same amount of product with less weight. This translates to greater fuel efficiency,

lower carbon emissions

, and a lower total cost on every shipment. 
Energy efficiency isn't a slogan; it is a better way of doing business that can lower costs and improve margins. Plastic pallets are the single best and easiest way to make improvements at every stage of your supply chain that will increase your business' sustainability and cost-efficiency.
iGPS rents recyclable plastic pallets that can improve your supply chain efficiency. To learn more about how our pallets are safer and cleaner, give our team a call at 1-800-884-0225, email a specialist at [email protected], or visit our contact page.