ARTICLE UPDATED ON JULY 27, 2023
During his remarkable conquests, Alexander the Great reportedly shared a remark regarding the individuals responsible for ensuring the smooth functioning of his supply chain. He stated, "My logisticians are a humorless lot. They know if my campaign fails, they are the first ones I will slay."
In the present era, the management of supply chains has assumed an even greater importance and complexity. Supply chains form the backbone of the global economy, and enhancing energy efficiency within these networks is of paramount significance for enterprises aiming to achieve cost savings, reduce emissions, and comply with increasingly rigid regulatory requirements.
While Alexander the Great's conquests may have impacted the known world, contemporary challenges extend beyond mere territorial dominance to encompass the welfare of every individual on the planet. Enhancing the energy efficiency of your supply chain offers dual advantages: it benefits your business directly and contributes to the well-being of the surrounding world.
Why Improving Energy Efficiency In the Supply Chain is Important
As noted in a 2022 article from the U.S. Energy Information Administration, energy efficiency can help lower energy costs and reduce greenhouse gas emissions associated with the use of energy. 
Making a supply chain more energy efficient has a wide range of benefits for businesses beyond its positive impact on the planet. Some of these include:
Higher profit margins

Lower total cost of business

Increased competitiveness

Improved reputation and brand image
Increasing energy efficiency is important and beneficial, but it can also be challenging. For many businesses, it is possible to improve efficiency at the margins, but a major overhaul of equipment requires significant capital. This is where the supply chain comes into play. The supply chain offers simpler and more economical ways to make small, tangible improvements in energy efficiency that add up over time.
How to Improve Energy Efficiency in the Supply Chain
There are a variety of ways to improve energy efficiency in the supply chain. Each approach can complement the others, and each component is important. 
Frequently Audit Upstream Suppliers: 

Vendors may pass their costs and inefficiencies on to you. Auditing your vendors can help you understand where your money is going and how energy efficient your business truly is. 

Engage an Efficiency Consultant: 

Energy Digital

 magazine points out

 that engaging a consultant can help identify suppliers that will enable piloting improvements in supply chain energy use. 

Perform Route Optimization: 

It's no exaggeration to say that every wasted mile adds extra costs. Investing in route optimization software, rigorous training, and driver monitoring can help improve transportation efficiency. 

Track All Shipments: 

Increasing supply chain efficiency

 means making sure that everything is shipped on time, stored for the optimal amount of time, and loaded in precisely the right order. 

Pallet-level tracking via RFID tags

 can help businesses take control of the supply chain to reduce spoilage and 

rejected loads

. This prevents wasted product, cuts down on inefficient return and repacking or repalletizing, and saves retailer rejection fees.
Each of the methods above can make a difference in an enterprise's energy use, but one change in particular can impact the energy efficiency of every area of a supply chain without a major cost outlay. This involves making a switch from wood shipping pallets to plastic pallets.
Make Every Shipment More Efficient with Plastic Pallets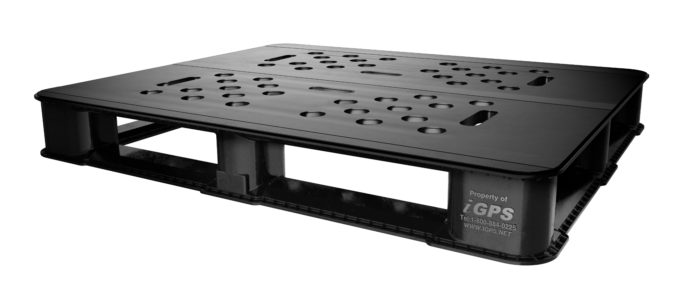 Pallets are the heart of the supply chain, and when they were originally invented, all pallets were made from wood. While wood may be abundant and easy to build with, it's neither cost-efficient nor energy-efficient. Plastic pallets, on the other hand, offer several benefits that can increase the efficiency of a supply chain overall.
Plastic is easier to clean and sanitize

. 

Wood is susceptible to mold

, which can contaminate packaging and lead to rejected shipments, and therefore higher costs. It also absorbs moisture, including spilled product and cleaning chemicals. Plastic, on the other hand, can be easily rinsed and sanitized and does not absorb liquids.

Plastic is more environmentally friendly.

 Plastic comes with many sustainability benefits. It is more durable than wood and 

is fully recyclable

. As a result, rather than ending up in a landfill, a high-quality plastic pallet can simply be ground down and made into a "new" pallet at the end of its lifespan.

Plastic is stronger and lighter.

 Plastic is durable and 

ideal for carrying heavy loads

. It is also far lighter than wood, which allows a supply chain to transport the same amount of product with less weight. This translates to greater fuel efficiency, 

decreased carbon emissions

, and a lower total cost on every shipment. 
Ultimately, energy efficiency translates to a better way of doing business that can lower costs and improve profit margins. The implementation of recyclable plastic pallets is the best and simplest way to make improvements at every stage of the supply chain.
Companies committed to energy efficiency invest in durable, environmentally friendly iGPS plastic pallets for all their shipping needs. Our lightweight, recyclable plastic pallets are safer, cleaner, and more durable than wood. For more information, contact us at 1-866-557-0047, email a specialist at [email protected], or visit our contact page.